GOETHE ZERTIFIKAT DEUTSCH (B1)
GOETHE ZERTIFIKAT DEUTSCH (B2)
GOETHE ZERTIFIKAT DEUTSCH (C1)
GOETHE ZERTIFIKAT DEUTSCH (C2)
A LEVEL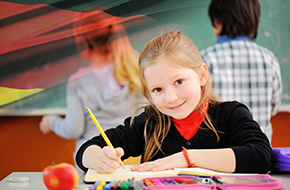 Students are familiarised for the first time with the German language in a pleasant teaching environment. The lessons are given using the latest course books combined with state-of-the art interactive material. At this level, students learn to write, read, watch videos and sing in German.
B LEVEL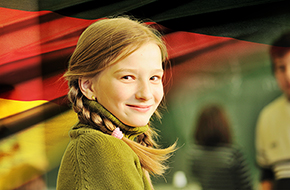 At this stage, we delve more deeply into grammar and syntax structures using the Student's book and the Workbook. Vocabulary learning is accomplished via audiovisual equipment with an integrated glossary so that students learn to pronounce the words correctly. By completing the second year, the student is able to understand more difficult texts and becomes a more fluent speaker.
C LEVEL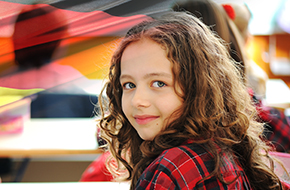 During this stage, students enhance their vocabulary skills and are taught new grammar structures by constantly using interactive material. This class prepares students for their first degree B1, with especially targeted material which focuses on reading and listening comprehension, writing tasks and oral skills (it is relevant to the 4 parts of the B1 Goethe Institut Degree). Thus, students have a clear idea of the exam they will be taking the following year.
E LEVEL (B1 LEVEL)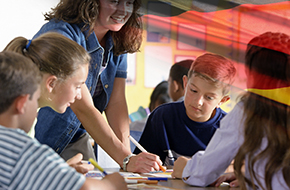 At this stage, students take the exam for their first degree in the German language, B1 Goethe Institut. Their preparation is completed throughout the school year using specialized books. Students are provided with interactive material in this class too, and they are finally able to watch educational videos in German without the use of subtitles.
MIT LEVEL (1ST YEAR OF B2 PREPARATION)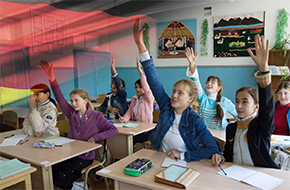 At this stage students are essentially prepared for the most difficult degree after B1. They are taught new grammar and syntax structures and vocabulary learning is even more demanding. At the same time, students are prepared with specially aimed material for the following year's examinations of B2 Goethe Institut.
MIT LEVEL 2 (B2 LEVEL)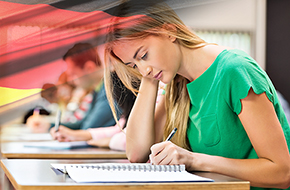 At this level, students complete their preparation for the B2 degree. They continue to work carefully on the grammar and syntax structures regarding the two grammar and syntax parts of the B2 examination. In addition, their preparation is fully accomplished for the written and oral exams of the B2 Goethe Institut examination.
KLEINES LEVEL C1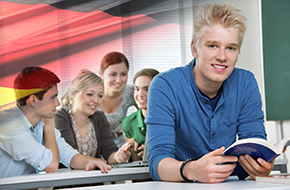 Students at this stage are highly proficient in the German language. Their grammar and vocabulary skills are even more enriched and perfected, and within a year the students are fully prepared for the Kleines/C1 Goethe Institut examination.